Charles Bukowski Explains Why He Wrote Poetry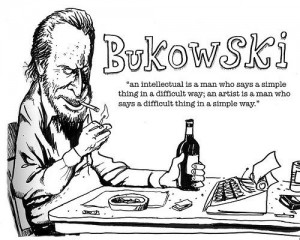 Charles Bukowski was a poet, but he wasn't a huge fan of poetry. Or, at least, not most of it. He had as little patience for the poets themselves. So why would the man want to write poetry if he found it so distasteful? Here, in an excerpt from an interview, Bukowski explains why he wrote poetry. Turns out, it mostly boiled down to feeling that someone ought to be doing it well, and that very few people were.
He also gives a bit of insight into his childhood, which he wrote about in the novel Ham On Rye, as well as, to a lesser extent, in other books.
Everybody was disgusted with poetry. You know, when I was a kid. The poet is a sissy, the poet is nothing, and it was true, they were, they are, a lot of them. Not meaning being a sissy, uh, by sissy I mean they're missing the point, you know? Like guys are fighting in the schoolyard and one guy gets a punch in the mouth and you're watching this…another guy gets his head pushed down in a fountain and he comes up with a mouthful of blood. These things are never explained, you know? The realities were never explained, everything was hidden in poetry. The reason I kept writing was because – not because I was so good but because they were so damned bad. Yeah." ~ Charles Bukowski