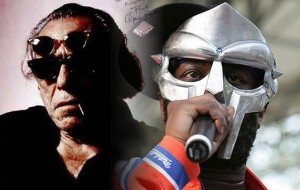 Oh, mashup culture, how we love thee. But only when you mashup two things we like, which in this case is exactly what has happened. Ladies and gentlemen, introducing MF Bukowski.
MF Bukowski: Charles Bukowski Meets MF DOOM
Who is MF Bukowski, you say? Well, a YouTuber by the username of IloveNoNames has created this awesome mashup of Charles Bukowski and rapper MF DOOM. The words come from one of Bukowski's most famous poems, "Bluebird" and the track called "Lovage" off the MF DOOM album Special Herbs, Vol. 2.
The poem is read by actor and musician, and friend of Bukowski, Harry Dean Stanton. The audio comes from the Bukowski documentary Born Into This.
What makes this mashup that much greater is that MF DOOM is a Charles Bukowski fan! In fact, he named his 2009 album Born Like This for the first line of Bukowski's poem "Dinosauria, We," which he sampled in the track "Cellz."




He discussed the Bukowski influence in an interview with HipHopDX, saying
I always read a book when I'm doing a record. When I get stuck it gets my stuff going. Bukowski was for this record. I'm reading the Bukowski shit and getting into that dude and his plight and his whole mission as a writer. I watched a documentary [about] that dude [called Born Into This]. He really inspired me, just from how he just did his craft without worrying about [standards]. There's no standards to what we do, we just do it. Born Like This, that's why I chose that as the title. Writers are born and we're not doing it like, "Yeah I think I'll be a writer today." We can't help it. If I had another job, if I was a gardener or a city worker, I would still be writing rhymes and doing my little thing.
Have a listen to the mashup below. We've also posted "Lovage" in its entirety, as well as "Cellz." Let us know what you think of the tracks – both the independently made mashup and the two MF DOOM songs – in the comments below.
MF Bukowski Video:
MF DOOM "Lovage" Video:
MF DOOM "Cellz" Video:
Comments
comments