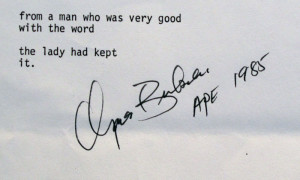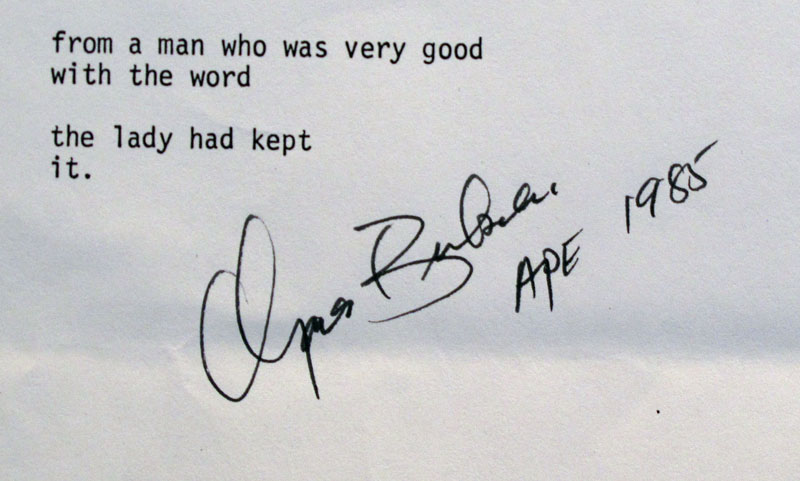 During his lifetime, Charles Bukowski was more famous abroad than he was in his home country of America. As a result, many of the interviews he gave were to the foreign press.
This was true even late in his life, as witnessed by this appearance on Scandinavian television. He mostly talks about how natural his writing process was, and his motivation for writing. He also discusses his true feelings about Henry Miller.
But perhaps what will be of greater interest to many Bukowski and Hemingway fans alike is the appearance of the photograph of Ernest Hemingway, drunk before noon.
Bukowski mentions the photo in his poem of that name, and says that he has the picture hanging on his wall.
At around the 25 second mark, the camera moves up from the typewriter and onto the photograph, where, indeed, we see Hemingway "…stretched on the floor/face puffed with drink…" just as described in the poem.
Watch the Bukowski interview below, and keep your eyes peeled for the moment that reveals the famous, unseen photograph. You can then read the poem in full, below that.
Oh, and if you've got an extra $2,000 lying around you can even buy the original typewritten poem, complete with Charles Bukowski autograph from Dragon Books here.

You can read the poem in full below.
Charles Bukowski Poem, "Hemingway, drunk before noon"
she knew Hemingway in Cuba
and she took this photo of him one day
drunk before noon —
he was stretched on the floor
face puffed with drink
gut hanging out over his
belt, hardly looking
macho
at all.
he heard the click of the camera,
lifted his head a bit from the
floor and
said, "Sister, don't you ever publish that
photo."
I have the photo framed now
on the south wall
facing the door.
the lady gifted me this
bit.
now her book has just been
issued by Rusconi (Italy) and is
called
HEMINGWAY.
there are photos:
Hemingway with the lady and a
dog.
Hemingway's work
room.
Hemingway's library with bull's
head.
Hemingway feeding a
cat.
Hemingway's bed.
Mary Hemingway with the
lady.
Hemingway and Mary, Venezia, 31
ottobre 1948.
Hemingway and the
lady.
Hemingway and
Ettore Sottsass jr.
Hemingway, Venezia, marzo
1954.
but
no photo
of Hemingway
soused before
noon.
from a man who was very good
with the word
the lady had kept
it.
Charles Bukowski Interview Transcribed
Charles Bukowski: I think the magic moment is when, you're walking around the house and you think: typewriter. And when I sit down I never have any idea what I'm going to write. There's nothing in my mind. And you walk in, you move toward it, and there it is, and things come out of it.

(Sitting at typewriter) The radio's set for classical music, unless I've got the race results. Then I usually have some beedis, I light them up, take this (typewriter cover) off, and you know, I drink, I listen to this (radio), smoke, ashtray, and I get lucky.

Sometimes a person will come up to me and say, "Oh, you're Charles Bukowski," and I will hardly know what they mean for a minute. Because I'm something else, I'm not the writer. What I mean is, a lot of writers say, "Oh, how painful it is to write. Just to get the word down is pure agony."

To me, I don't feel any of that. It comes out easy, melted butter, melted bullshit. There is no work. It just flows out. This is what I mean. But I don't walk around thinking, you know, I'm a writer, I'm a writer.

(Talking to his wife, Linda, acting as interviewer) Don't be nervous now, it'll be alright. Be calm.

(Talking about his latest book) It's about people in trouble, people in agony, crazy people and etc. Hot Water Music. You get in a tub full of hot water, you get burned, right. You jump out. Okay, sometimes people can't jump out of their lives, they just keep getting burned. Hot water music.

Linda: What about you?

Bukowski: I jump in and out. I get burned, I jump out, and I jump back in and get burned again, and I write some more. How about you?

The way to get a woman is not to have money, not to look nice, not to have a nice personality. The way to get a woman is to always be available, night or day. Anytime you phone, you're there, or you're at the bar. They know you're available at all times. This is very, very important to a woman.

And since I wasn't doing anything but drinking and living in a small place, I was always available. And here they came. They weren't beauties, except maybe for one or two. Yes, there were a lot of women, and a lot of drinking. It's all true (laughs).

Now I was seventeen, or maybe sixteen or seventeen, and I came home and here were all these papers in the front lawn, blowing, and my shorts and my shoes. My father had read my short stories. He didn't like them, and that's a very good sign, you know.

So I just ran around picking up the papers, I left the dirty underwear and the other stuff. I just put the papers in the suitcase, and then I left.

My father was a monster. So the whole world compared to my father was very mild (laughs). I'm a lucky man.

(On his Apostrophes TV appearance) I went on there with no idea what I was going to do. It was just that it was so stuffy and so false, I couldn't stand it, and I had to lash out. You expect the moderator to be stuffy and careful, but the writers themselves are supposed to be the living souls. When they are too careful and too political, and when they pussyfoot too much it's very discouraging. It's like the world is empty. So I lashed out at all this, and I think I was right.

I've had problems reading Henry Miller. And people don't believe this when I tell them. First time I read him I was a young man on a bus going to New Orleans. I said, "Ah, Henry Miller." I couldn't read the book. And I've gone to libraries and I can't do it.

He gets good at times, when he sticks with basics. But when he goes to the stars and he philosophizes, everything flattens out. He gets too windy. It's only when he sticks to basic realities like survival, plus and minus, that he's good. Otherwise he's a terrible bore.

God, I never thought I'd have the nerve to say that, but I've said it. Let it be recorded (laughs).

I think I would almost die, I wouldn't die, but I would become dull or I would become insane. Something terrible would happen. Writing is my escape, it's my elixir. Without it, yes, I would almost die.

I don't care what they say after I'm dead. In fact, I hardly care what they say while I'm alive. I only write to help myself get through the weeks and the months and the years. I don't write for immortality. I don't write for the ages. I write selfishly, for myself, to make myself feel better. That's all.

Linda Lee Bukowski (Bukowski's wife): I don't think he ever goes too far. Because if he's just writing what he is writing from himself, you can never go too far. It's infinite, what you can say, and what you can feel, and what you can express. And so it's never too far, it's always good and looking forward to more. Whatever the content is, it just gets further and further, but it's not shocking. Maybe more truthful, and I like that.

Bukowski: Alright, that was very nice, darling.

Linda Lee Bukowski: Yes.

Bukowski: Okay.

I don't believe a writer has to be unhappy, and I like to drink, I like to go in a room and shut the door and type. That's my heaven. My heaven to escape hell. So I'm going the way of all society. The great rebel sits in a big home. Do you think that I'm happy?
Comments
comments