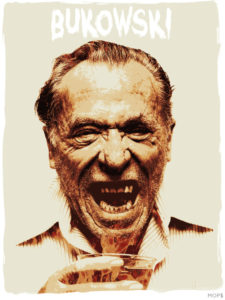 A while back, in our article "Two Notable Bukowski Bars in the News," we told you about The King Eddy Saloon, an LA Skid Row bar where Charles Bukowski supposedly drank. The King Eddy Saloon has just changed ownership, and its longtime manager claims Bukowski used to be a regular patron of the establishment.
Did Charles Bukowski Really Drink at The King Eddy Saloon?
The original article we cited, "Prominent Downtown Bar Owners Buying King Eddy's Saloon," published by The Los Angeles Downtown News, only said, "Lovers of Los Angeles lore know the King Eddy from the pages of author John Fante, who referenced the saloon in his novel Ask the Dust. Fante and Charles Bukowski were known to drink there."
What they didn't mention was that, according to 74-year-old manager Bill Roller, who has worked at The King Eddy Saloon for 50 years and served as its manager for the past 34, this happened during the early '90s.
In an article by California Public Radio station KPCC, on their blogdowntown site, titled "Bar manager, historians take sides over saloon's popularity with Charles Bukowski," biographer and friend Neeli Cherkovski questions the likelihood of Roller's story. Roller claims that Bukowski used to come in during the afternoon, a few times a week, to drink coffee and "scribble notes."
Cherkovski, author of the book Bukowski: A Life, seems right to question this tale. At that point in his life Bukowski was married to Linda Lee Bukowski and they were living in San Pedro. As rightly noted by Cherkovski, while Bukowski spent some time living on Skid Row in his younger years, the record of that is spotty and he was known to have hated Skid Row. By the 1990s he would have had no need to go there.
"I wonder, did he really drive from San Pedro to a Skid Row bar for coffee?" Cherkovski asks, in an email to blogdowntown.
Richard Schave, a Los Angeles historian and the founder of Esotouric, a tour company which focuses on L.A.'s more off-the-beaten-tourist-track sites, with a particular interest in obscure literary spots, also doubts the Charles Bukowski, King Eddy's connection.
Esotouric does stop at The King Eddy during its Bukowski tour, but not because they are convinced he drank there.
While the tour makes a stop at the King Eddy, it's not because of its association with Bukowski, but rather its connection to Bukowski's literary hero John Fante.

Both Roller and Schave can agree that Fante frequented the saloon. The King Eddy is even featured in Fante's Ask the Dust – the novel Bukowski attributes to getting him into writing.

It's this literary inspiration that makes the King Eddy a focal point on the Bukowski tour, not the number of visits he made to it, Schave said.
But just because the idea of an elderly Bukowski driving back to the Skid Row hell he escaped from for a cup of coffee and a writing session – which, going by interviews and discussions of his writing process in his work, he seems to have always done at home, on a typewriter, not on a piece of paper in a bar – doesn't mean he never went to King Eddy's in his earlier years. In fact, that seems downright plausible. Fante's son seems to agree:
But Dan Fante, John Fante's son and an author himself, said in an email that he is sure "Hank" – as he calls Bukowski – drank at the King Eddy, just like his father John.

"The bar is located in the belly of the beast – Hank's old downtown haunts," Dan Fante said. "There's no question of that."
So whether or not Charles Bukowski ever drank at The King Eddy Saloon, it will still likely remain a Skid Row bar of interest for Bukowski sightseers.
RELATED:
Comments
comments