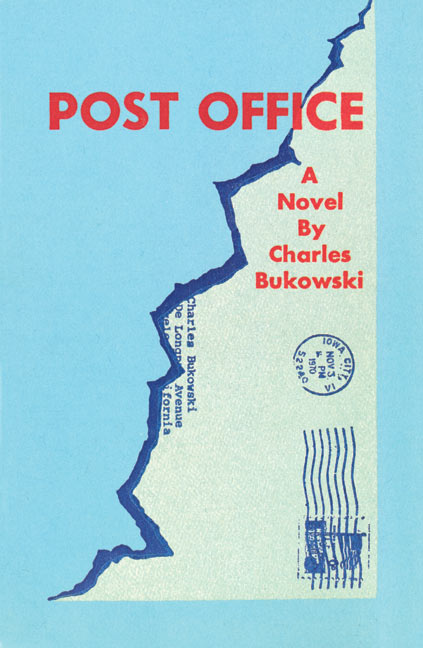 Post Office was Charles Bukowski's first novel, published by Black Sparrow Press in 1971.
The autobiographical book covers the years Bukowski spend working in the post office. Bukowski's alter ego, Henry Chinaski, starts as a substitute mail carrier. The novel begins, "It began as a mistake." He hears from a fellow drunk that the post office hires carriers during the Christmas season to handle the extra mail load and at first it seems an easy gig.
Soon it takes a turn into the kind of Factotum hell that Charles Bukowski fans know well, as it shows up later throughout his work.
Post Office covers Bukowski's life from around 1952 through 1955, when he resigned from the post office, to his return in '58, then to his final resignation in '69.
Publisher John Martin formed Black Sparrow Press in order to publish Bukowski's work, and soon after other writers as well, and offered him $100 a month for life – what Bukowski said he need to live on, including money for child support – if he quit the post office and agreed to write full time. Bukowski agreed to these terms and then took Martin up on his suggestion that he write a novel, as they tend to sell better than poetry and short story collections.
Post Office was the result. Bukowski would follow it with five other novels (Factotum, Women, Ham On Rye, Hollywood, Pulp), a screenplay (for the movie Barfly) and countless poems, short stories and essays.
Top Five Post Office Quotes
"The streets were full of insane and dull people. Most of them lived in nice houses and didn't seem to work, and you wondered how they did it."
"'I came with some damn fool,' she said. 'Forget him.'
'If you can, I can,' I told her."
"I went to the bathroom and threw some water on my face, combed my hair. If I could only comb that face, I thought, but I can't."
"'I still say, go to a small room and write.'
'BUT I NEED ASSURANCE!'
'It's a good thing a few others didn't think that way. It's a good thing Van Gogh didn't think that way.'
'VAN GOGH'S BROTHER GAVE HIM FREE PAINTS!' the kid said to me."
"Women were meant to suffer; no wonder they asked for constant declarations of love."

  Buy Post Office by Charles Bukowski
Comments
comments