Editor Abel Debritto was horrified when he dug into the Charles Bukowski archives while assembling collections of the writer's work on cats, on love, and on writing, by how editors had changed his words.
And not for the better.
Debritto told PBS that the editors of Bukowski's posthumous collections of poetry have changed not only a few words here and there, but sucked the life out of the work:
Instead of the love-it-or-hate-it but very recognizable voice of the "King of the Underground, "the "Dirty Old Man," the womanizer (many would say misogynist) and drunk who favored the raw and the obscene, Debritto found fluffy imagery and trite language laced throughout his posthumous poems.

"Some of the changes are so awful, it's almost embarrassing," said Debritto, citing as example a 1992 poem Bukowski originally entitled "stone tiger, frozen sea," which had been completely reworked for another volume of posthumous poetry with just two lines left unchanged. Its new title: "like a dolphin."
This tendency to edit Bukowski's work was taking place even during his lifetime, by editor John Martin.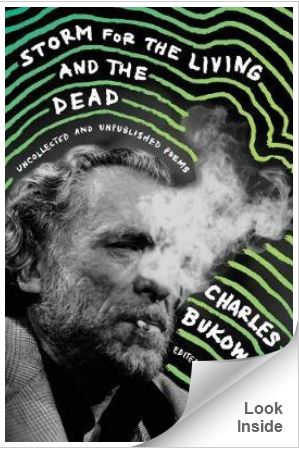 Debritto has put together a new collection of previously unpublished poems by Bukowski, called Storm for the Living and the Dead: Uncollected and Unpublished Poems.
"In Debritto's new collection, we see an unrestrained Bukowski writing of men's crappers and tonguing a woman and cheap wine and junkies and anger at the censors. We see Bukowski grapple with his own mortality: 'Charles Bukowski, dear boy, / the game is ending and you / never got / past midfield, / punk,'" PBS reports. "We even see a side of the poet that's more tender, though never trite, such as the last poem in the collection, titled 'song for this softly-sweeping sorrow…'" (You can read that on the PBS website here.)
"This book is the raw, true, genuine Bukowski. There's the tender Bukowski, the obscene, dirty old man Bukowski, the Bukowski that looks up to other writers, the Bukowski that is in love with women, I tried to have a number of different Bukowskis," Debritto said. "Some people think he's obscene. But I don't think so. I think he's talking about real life."
Buy the Charles Bukowski poetry collection Storm for the Living and the Dead: Uncollected and Unpublished Poems.
Comments
comments