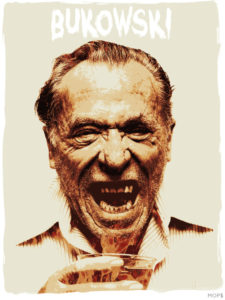 "Alone With Everybody" is one of Charles Bukowski's most well known poems. It explores the topic of loneliness, a common theme in his work. 
Its cinematic quality, which is also found in much of his poetry, makes for the perfect fodder for filmmakers. 
Related: Two Animated Videos Set to the Bukowski poem "Bluebird"
The poem has inspired a number of short films, and three of the best ones are embedded below, following the poem:
"Alone With Everybody"
the flesh covers the bone 
and they put a mind 
in there and 
sometimes a soul, 
and the women break 
vases against the walls 
and the men drink too 
much 
and nobody finds the 
one 
but keep 
looking 
crawling in and out 
of beds. 
flesh covers 
the bone and the 
flesh searches 
for more than 
flesh. 

there's no chance 
at all: 
we are all trapped 
by a singular 
fate. 

nobody ever finds 
the one. 

the city dumps fill 
the junkyards fill 
the madhouses fill 
the hospitals fill 
the graveyards fill 

nothing else 
fills.



Watch the short films below, incorporating audio of a reading of Bukowski's poem.
Alone with everybody – Charles Bukowski from Nick Bolton on Vimeo.
Alone With Everybody from Paul Hairston on Vimeo.
The final video is the audio of the poem set to footage of the a 1964 Soviet-Cuban film directed by Mikhail Kalatozov, about Cuba's 1959 revolution.
What did you think? Do you have a favorite? Tell us in the comments.
Comments
comments