Here are a collection of the best Charles Bukowski GIFs. They feature him drinking, writing, and speaking truth.
Bukowski Drinking GIFs
"A good hot beer shit is glorious, man." ~ Charles Bukowski
"I have nothing to say about anything." ~ Charles Bukowski
Charles Bukowski on Style
Related: Watch Bukowski read the poem "Style" below.
Bukowski "Beer" Animated Video GIF
Watch the full "Beer" animated short here.
Bukowski Says, Don't Trust the Crowd GIF
Bukowski Poem GIF
Bukowski 'The Simpsons' GIF
'Barfly' GIFs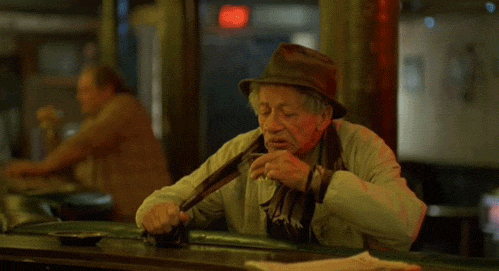 Related: Best 'Barfly' Quotes
Bukowski the Romantic
"…And then it fades away."
Genius When Drunk GIF
Bukowski is Not a People Person
Have a favorite Bukowski GIF we missed? Feel free to share it in the comments.
Comments
comments