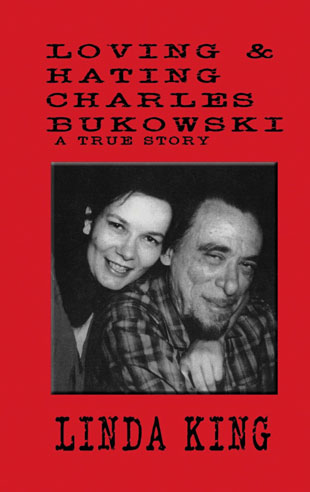 Linda King and Charles Bukowski were together in an on-again-off-again relationship for around five years. The relationship started when King, a talented sculptress, asked Bukowski if she could do a bust of his head.
Bukowski wrote about her extensively, in both poetry and prose. She was the model for the character Lydia Vance in his novel Women.
King wrote about Bukowski as well, for years in her poetry and more recently in a memoir called Loving and Hating Charles Bukowski.
Her sister, Gerry, has a YouTube channel where she has posted a couple of videos of her sister reading poems about Bukowski, as well as poetry on other subjects.
Two of the poems come from her collection Bukowski Undigested. The others come from her book Exposed.
Linda King Reads Poetry About Bukowski
Linda King's Sister Gerry Discusses Linda's Physical Strength in Dealing With Bukowski 
In another video, Gerry talks about the strength, both physical and mental, that was required to be Bukowski's girlfriend during those years. It's an interesting look at the dynamics of their relationship from an eye witness perspective.
Linda King Reviews Barfly
Wondering what Linda King thought of Mickey Rourke's portrayal of Bukowski in Barfly? Check out her thoughts on that below.
What do you think of Linda King's poetry? Let us know in the comments below.
Comments
comments