Charles Bukowski Painting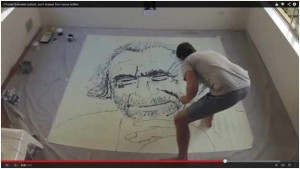 Charles Bukowski paintings are pretty common, but not too many of them are created using drippings from sauce bottles. This interesting technique is captured in a time lapse video, uploaded to YouTube by user James Trotter.
The audio includes Charles Bukowski talking about his work.
Bukowski was also a painter himself. He included some of his paintings in special editions of his books early on in his career. He stopped the practice in the early eighties because he didn't like the pressure of having to churn them out, saying in letters it took the joy out of the process.
Charles Bukowski Art
He was also a pretty decent doodler, with his own unique style.
Let us know what you thought of this painting in the comments below.
Comments
comments